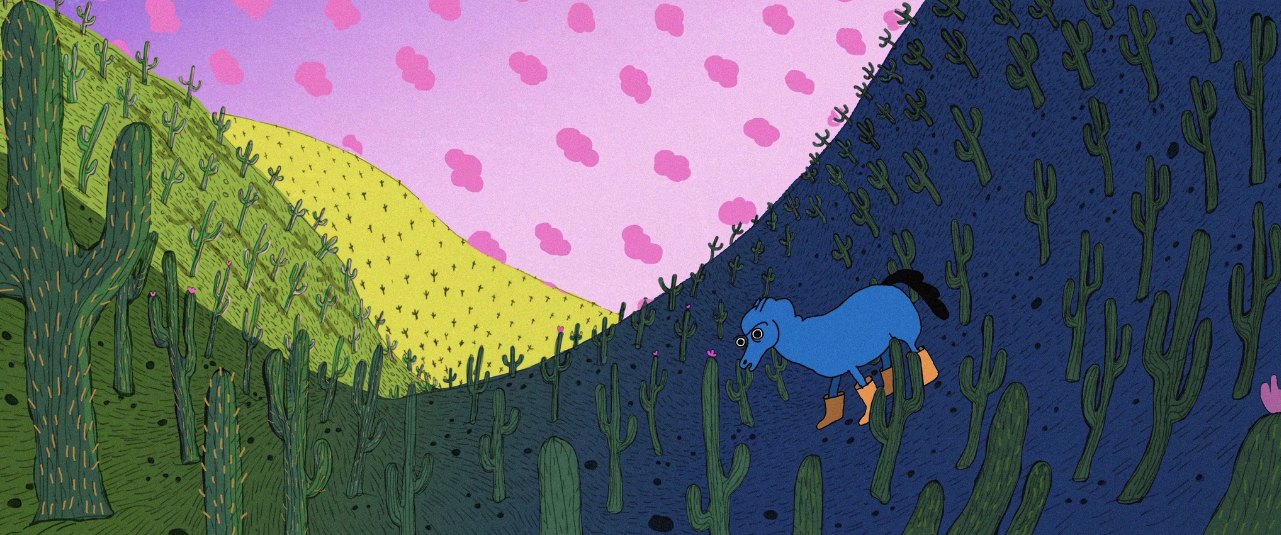 The precise tone of Sam Lane's Spell of the West is tricky to pin down. The opening moments aren't sinister, exactly, but the low-rumbling synth is certainly ominous. One scene later and it seems like it might be an Adventure Time-style exercise in absurdity, with its talking animals and call to adventure. The voice acting is casual and borderline deadpan (with the exception of a particularly stressed out bird). The synth score and twilit colours have more than a hint of Jodorowsky's mysticism and Moebius's magic to them, giving the whole thing an eerie edge despite its pervasive cuteness.
Playing the influence game is the wrong approach to talking about Spell of the West, though. Made during Lane's third year at CalArts, Spell runs deeper than just an homage. Behind the western setting and cartoon trappings lies an exploration of some heavy topics — of our relationship to the environment, and especially of powerlessness in the face of destruction. Lane keeps the film emotionally honest, even as its world reveals itself to be deeply strange.
Spell marks a complete departure from Lane's first film, Lilith, which used stop-motion to tell a more straightforwardly moody story. That film already had a striking style — there's a drama in its lighting and landscapes that isn't always present in Spell of the West — and the contrast only makes Spell's distinctiveness that much more impressive. Lane's follow-up film is due soon, assuming CalArts' final year is still on track, and it looks to be sticking more closely to the style she established with this one. Given how quickly she's been evolving as an artist, though, it's one to look forward to.
Spell of the West
dir: Sam Lane
syn: On an isolated cacti farm, three stressed out birds ask a cowgirl to help put a stop to the elusive Ax-Man.
Behind the scenes: Short of the Week has a brief interview with Lane about the film. An isolated score is available on Soundcloud.